Arizona has 3 draws each year. During those draw periods, hunters can apply for roughly 70 antelope hunts, 200+ deer hunts and over 200+ elk hunts. One of the things that make Arizona draw and harvest statistics tricky to read is that hunt numbers can change from year to year. The image below shows the same hunt number in 2019 and 2020. Note that that 3070 is not the same hunt from year to year. The season and manner of take have changed. Luckily, HuntScore creates a static hunt code to track draw statistics across time. You can check out Arizona hunt brochures here.
Below is an example of how hunt codes can change! 2019 Arizona Hunt Number 3070 is a Youth-Only 1st Season Elk Hunt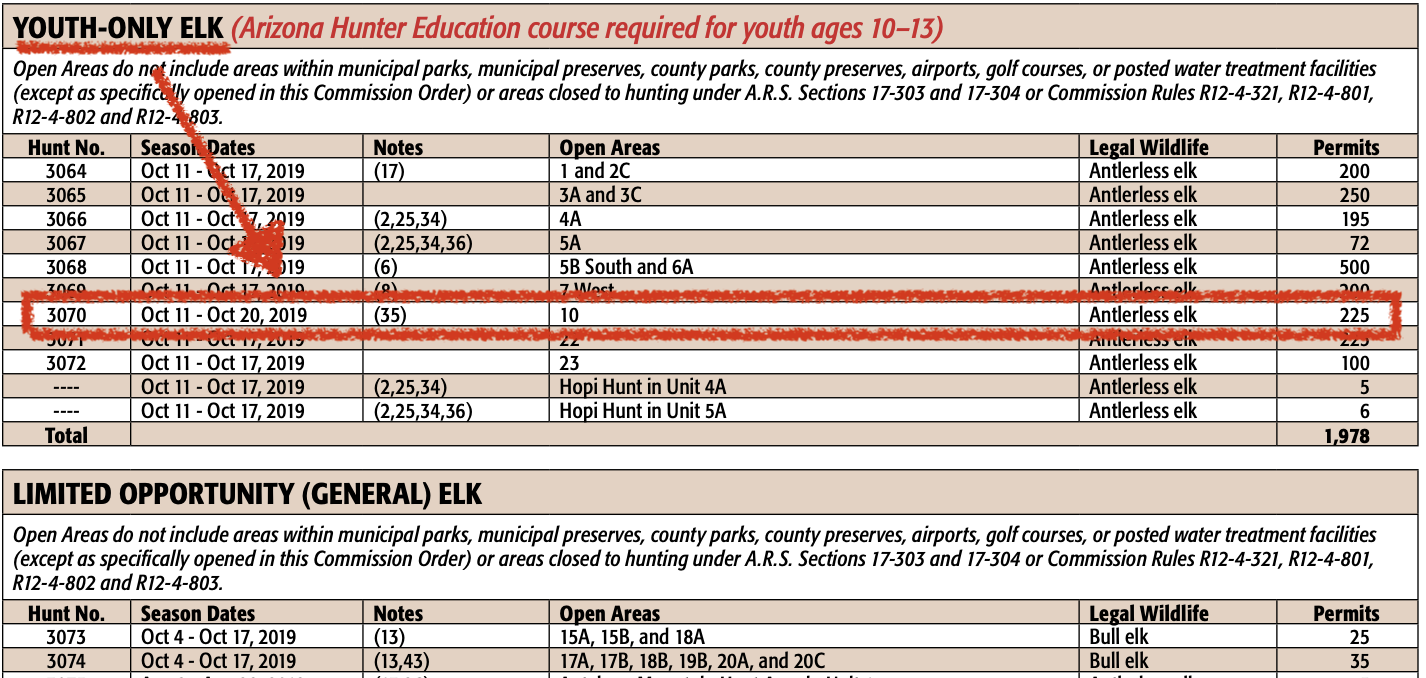 2020 Arizona Hunt Number 3070 is a Limited Opportunity 1st Season General Elk Hunt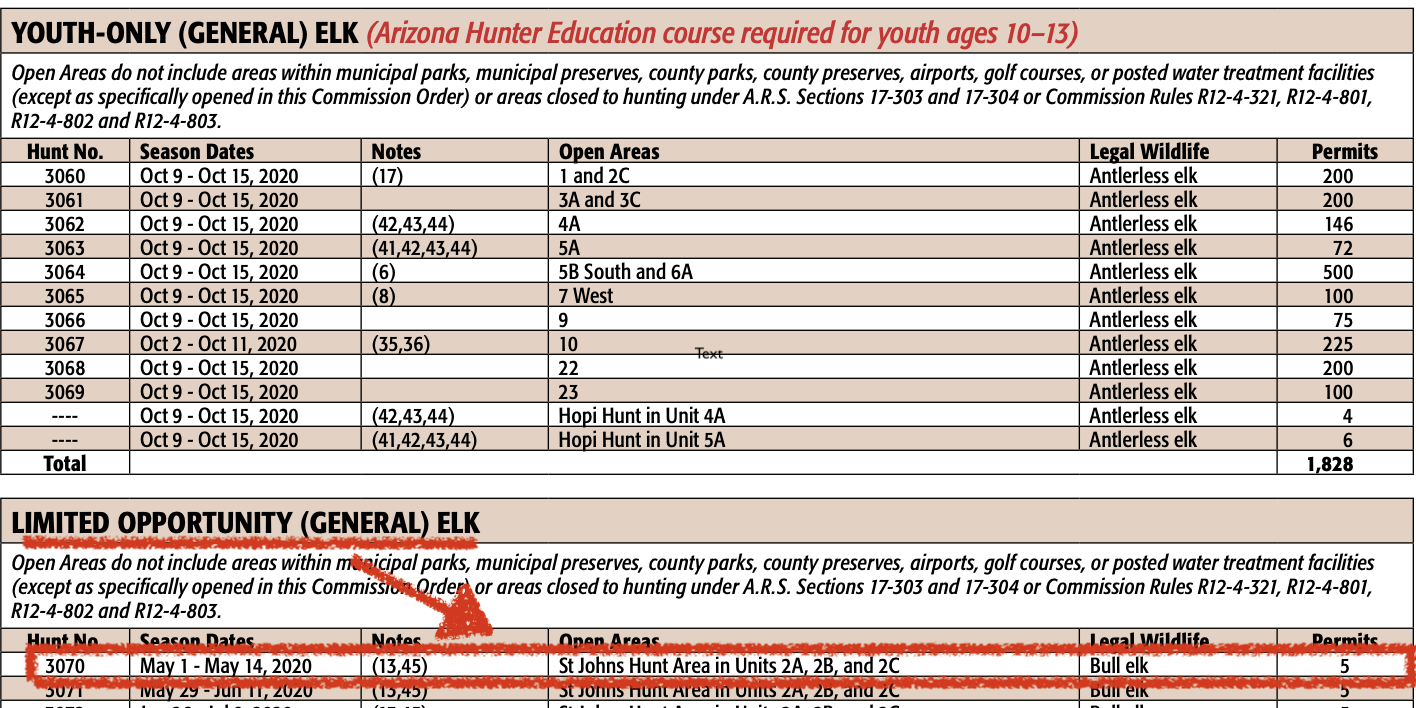 While Arizona hunt numbers will change from year to year, seasons, manners of take and dates are more consistent. So we've modeled our hunt codes based on the way hunters view the regulations. For a given species, we consider the unit, hunt type (youth, mobility impared, etc...), weapon type (manner), sex and season dates to construct a hunt code. So the first archery hunt of the year in a unit will be tracked consistently through time even if the hunt number changes. Let's show a tangible example!
Each hunt code is made up of either severn or eight components: unit, species, hunt order, sex, manner of take, season, type, and species of deer if applicable. Let's take a look at each of these below for Unit 3A in Arizona.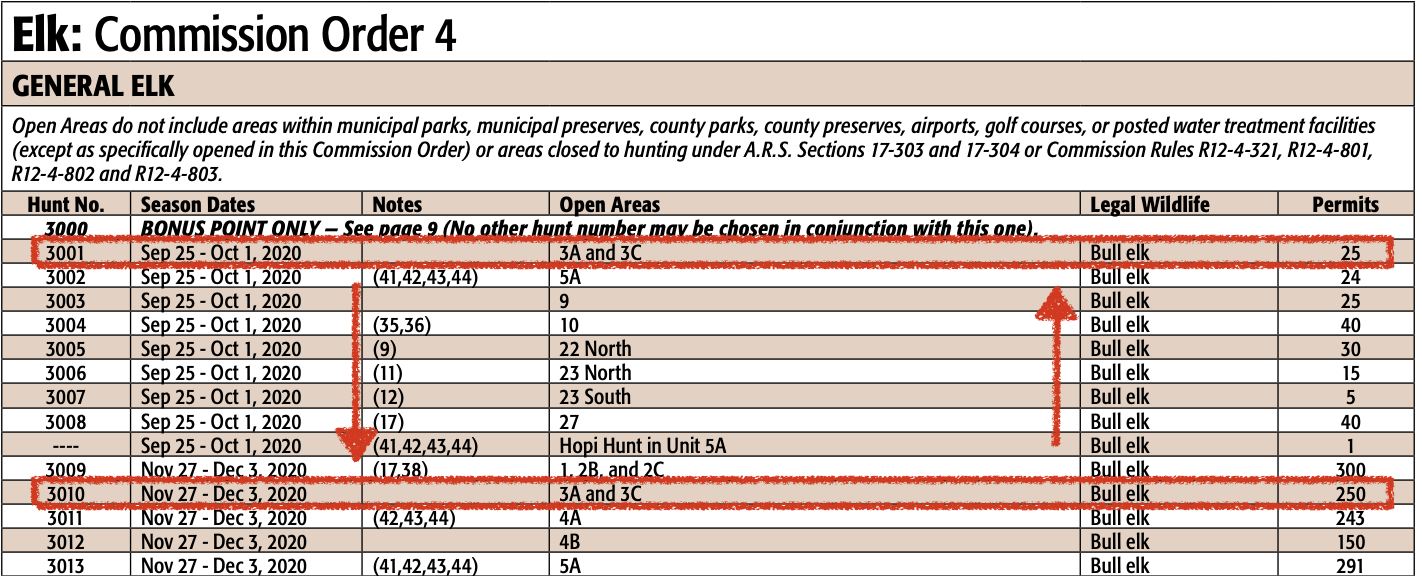 Arizona Unit 3A
We can see from the Arizona draw information booklet that Unit 3A has two opportunties to hunt in the General season which allows all manner of take. The first season occurs in late September while the second season occurs in late November. There are significantly more tags available during the second season. The first season is likely during or just after the rut so big bulls are likely to be very responsive during that time. Because of this, we'd expect draw odds to be significantly lower for the 1st season compared to the 2nd season. Since folks who draw this tag can also hunt in Unit 3C, that unit will show the same statistics.
3A_E_1_M_ALL_G_LL
Above is the hunt code for Unit 3A's General 1st Season Bull Elk Season. Let's break down how it is constructed. Note that we use "_" to construct the code.
Unit
3A_
The hunt code leads with the unit for which the hunt takes place in.
Species
3A_E_
The species code is E which respresents elk.
Season Order
The next letter and number identify the order in a hunt type (season, manner of take, sex and type). The earliest date for the season will be ranked as 1st and so on thereafter.
3A_E_1_
1 = 1st Season
2 = 2nd Season
3 = 3rd Season
4 = 4th Season
and so on....
Sex
The fourth block represents the sex.
3A_E_1_M_
M = Male
F = Female
E = Either Sex
Manner
Manner of take indicates the type of weapon(s) allowed during a season.
3A_E_1_M_ALL_
ALL = All manners are allowed, typically archery, muzzleloader and rifle
R = Rifle
A = Archery
M = Muzzleloader

Season
Season which the hunt takes place.
3A_E_1_M_ALL_G_
G = General
A = Archery
M = Muzzleloader

Type
Hunt types delinate characteristics such as special restrictions or qualifications like youth hunts or special restrictions. "NA" means a type was not applicable to this hunt code.
3A_E_1_M_ALL_G_LL
NA = Not Applicable
CHAMP = Challenged Hunter Access/Mobility Permit
LO = Limited Opportunity
LL = Limited License (Draw)
and so on....
Species of Deer
If the huntcode was for a deer, it may also have the species of deer. Mule deer or whitetail coues deer are differentiated in some hunts. If such restrictions are in place then the huntcode will reflect that.
By constructing hunt codes we are able to link draw odds and harvest statistics across years. With a HuntScore Pro membership you can see historical draw and harvest statistics for any huntcode. When new regulations are posted, HuntScore maps the new hunt numbers across years so you can quickly find the hunt you are after. Check out drawing stats for here . Happy hunt research and good luck in the field this year!
Posted: September 22, 2021